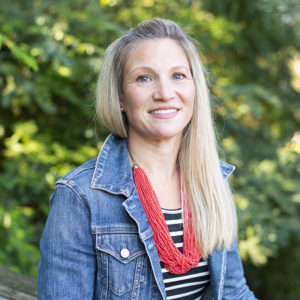 Jenni Cavallaro Earl
Director
Jen has been an active member of the CNS community for the past two years as a parent and member of the executive board. Prior to moving to Ithaca, Jen was a funeral director and mortician in her native New Jersey. Her roles included working with families in difficult circumstances, arranging all aspects of services, and supporting the business of the funeral home. Jen is excited to bring that experience to engage in the early life of our young learners, create a welcoming space for our preschool families and to be supportive of our amazing staff. Jen and her husband Brian have three sons: Cooper will be in the Nook this year; Dylan and Owen are CNS alumni at Cayuga Heights Elementary. When Jen is not at CNS she can be found teaching children how to swim at the YMCA or hanging out in the Cornell gym cheering on her husband and the Men's Basketball team. Go Big Red!
Danielle Kelly
Program Director and Lead Teacher in the Nest
As an active early childhood teacher, yogi, dancer, and musician, Miss Danny loves bringing her passions together to create opportunities for young learners to get moving! Having recently relocated to Ithaca from NYC, she brings her experience of working with hundreds of children in the five boroughs teaching everything from cooking, to hip hop, to yoga, and contemporary art for babies, toddlers, and young children. Miss Danny has been teaching for nearly 10 years and working with children aged 0-18, and is hoping to spread her love of the fine and visual arts to the growing little ones of Ithaca. Danny has her MS in Childhood Education as well as her BS in Speech Language Pathology. When she is not leading the toddler classroom at CNS, she can be found teaching yoga, teaching various enrichment classes at Jillian's Drawers, or enjoying Ithaca with her husband, her dog, and her cat.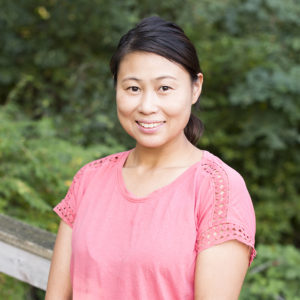 Chiharu Dexter
Teacher in the Nest
Chiharu loved and had a great experience her first year of teaching at CNS, 2017-18. Working with great teachers, she got to learn various new teaching techniques and , through spending time with the school's cherished students and through various professional development trainings, she came to understand and appreciate early childhood development even further. She looks forward to learning and developing further in the field of early childhood education.
Prior to joining CNS, she studied hospitality and worked in the field of tourism in Japan. After moving to America, she worked in the import/export industry. She loves cultural exchange and finds working with the diverse families of the CNS community an absolute delight. At home, she is raising three children whose ages range between teenager and kindergartener. One of her dreams is to visit the world's most beautiful waterfalls, and she feels very lucky to be living in Ithaca, home to so many gorgeous waterfalls!
Stephanie Robertson
Teacher in the Nest
Stephanie Robertson is thrilled to join the CNS team! Stephanie grew up in Texas. Her love for teaching has been instilled in her from a very young age by her mom. After Stephanie graduated from Texas A&M University with a BS in Secondary Education, she started her career as a middle school English teacher. When her husband got a job with the Cornell Basketball team, she saw it as an opportunity to find something that fits her better. CNS and the wonderful families involved came into her life at the perfect time. She cannot wait to bring a passion and commitment to making every day one of creating experiences to light those children's faces up with discovery and delight. She is committed to teaching with the same kindness, patience, and consistency that she has been taught from her many mentors. She is so excited to work with the toddlers in the Nest this year! Stephanie resides in Ithaca with her husband David and their dog Maxzine.
Holly Schindler
Lead Teacher in the Nook
Holly's experience ranges from teaching in progressive private preschool programs to working in public Pre-K with the Ithaca City School District. Her teaching experience includes owning, directing, and teaching at her own arts and nature based preschool in Caroline, NY. Holly's love for creative arts and the natural world, silly sense of humor, and deep affection for children make her an asset to CNS. She has an AAS degree in Early Childhood. When Holly is not at CNS she can be found trying to keep up with her two active boys Jonah and Finley, throwing pottery, and sipping coffee with her husband Asa.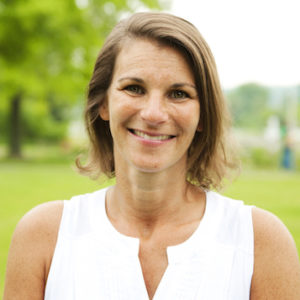 Evie Karnes
Teacher in the Nook
Evelyn Karnes is a Licensed Master Social Worker (LMSW) with experience working with young children both as a social worker and a teacher. She has been teaching at CNS since January, 2014. Evie also serves as the CPSE liaison for CNS, helping parents navigate the preschool special education system and ensuring the students get the services they need. She has worked with children who have special needs through early intervention and preschool special education. Evie has lots of experience with this age group, is calm and patient but also very dynamic and fun. Evie lives in Ithaca with her husband, three daughters, two dogs, and two cats.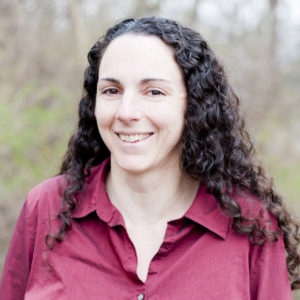 Melanie Gore
Teacher in the Nook
Melanie has had many roles at CNS, including parent, teacher substitute, Board Treasurer and Co-Vice President, Interim Director, Nest Teacher, and now Nook Teacher. She has also served in various volunteer capacities in elementary schools. Previously, she worked as Hasbrouck Apartments, Cornell's graduate and professional student housing where she assisted in event programming for children, youth, and families. Originally from Virginia, Melanie graduated from Virginia Tech with a B.S. in English (Go Hokies!). Her love of literature is something she values sharing with CNS students. She is always eager to ready with them and encourage learning and exploration through literary works of imagination. She loves all the roles being a teacher calls upon and frequently puts the knowledge and experience she has acquired while raising her own children to use in the classroom. Melanie lives in Ithaca with her husband, their four children (three have attended CNS), and their pug!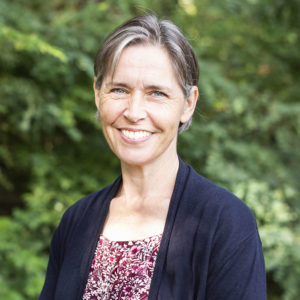 Christina Williams
Co-Lead Teacher in the Roost
Christina is looking forward to her second year in the Roost classroom at CNS! Having studied textile design in the UK, Christina moved to Ithaca with her husband and two daughters in 2005. After her youngest daughter started Kindergarten, Christina began working at St. Paul's Nursery School in downtown Ithaca. She spent ten happy year at the school and gained experience teaching across a broad developmental spectrum. Christina is passionate about helping each student develop the the skills and mindset needed for their next adventure in Kindergarten. Christina proudly became an American citizen in 2016!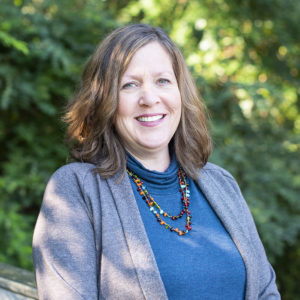 Kai Dickinson
Co-Lead Teacher in the Roost
Kai is a new and welcomed addition to CNS. She brings 25 years of experience working with young children and their families. Kai started her work in preschool at her alma mater Goddard College where she pursued a liberal arts degree. After her schooling, she went on to work for Ben & Jerry's Children's Center, ranked one of the top ten corporate Day Care Centers of its time.
Free spirited Kai moved to Eugene, Oregon to be a Lead Teacher at The University of Oregon's Childcare and Development Center, a pioneer in Early Intervention and Childhood Development. Later, moving back home to the Finger Lakes, Kai started a family of her own, raising three sons. She taught preschool at Ellis Hollow Nursery School and served children with special needs at Rackers Center.
Kai believes that all children are capable of learning, possess unique gifts and deserve the opportunity of a quality education. Kai loves to explore literature, art, math, science, music and movement though play with young children. Equally important, Kai finds that cultivating empathy, self esteem and problem solving skills are key components to early childhood education. She is thrilled to have a classroom of solely four year olds here at CNS. She believes four year olds are some of the best people on the planet!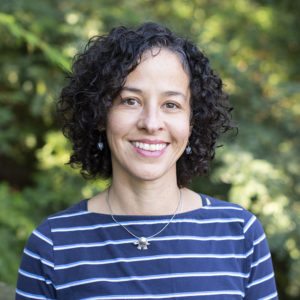 Adriana Cardenas
Extended Day Teacher and Substitute Teacher
Adriana grew up in Mexico, in a small city on the Gulf of California, in the Sonoran Desert. She studied biochemical engineering with focus in marine biology and received a masters degree in food science. Adriana came to Ithaca in 2005, where she has raised two children, currently fourteen and a twelve years old. She looks forward to working at CNS and applying her child-rearing experience, strengthened by her volunteering work at St Paul's Nursery School and with the Family Reading Partnership. Adriana can't wait to share her love of reading with the children at CNS and to introduce them to cultural diversity in the classroom. Adriana enjoys each of Ithaca's four seasons and loves reading, crocheting stuffed animals and dolls, and scuba diving.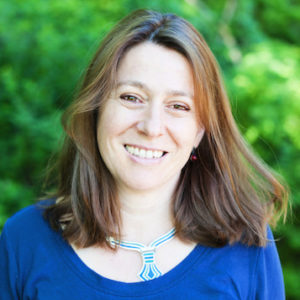 Alexandrine Crane
Business Manager
This year, Alex will be taking on the new role of Business Manager at CNS. In prior years, Alex has served as Executive Director, Administrative Director, and on the CNS board of directors as co-registrar, co-treasurer, and co-president. She has also worked in the classroom as a substitute. Alex is trained as a scientist. She received her Ph.D. in Molecular Biology and conducted research in this area at the Salk Institute, The California Institute of Technology, and at Cornell University for over 18 years. She has personally experienced many childcare settings through her own five children and finally found the right fit at CNS. She is undaunted in learning new skills and enjoys tackling new challenges. She is passionate about fostering and environment that exposes children to the rich diversity of the world.