The Nest Philosophy
The Nest strives to cultivate a fun and nurturing environment for little ones to grow and learn. For many children this may be their first experience away from their families. Therefore we do everything we can to ease the transition into the school setting for parents and students alike.

Toddlers are innately curious and deeply porous and aware of their environment, so the teachers in the Nest strive to offer many opportunities for them to develop and strengthen their five senses. We provide multiple platforms for your children to learn through play and exploration across the early childhood disciplines including art, math, and literacy. A variety of toys, tools, and materials are consciously chosen to allow students to experience the world around them. Process-based activities are integral to a child's growing mind, and we aim to foster these opportunities daily. We also use a great deal of movement and music in our room, as we know this comes naturally to young children and supports learning through the use of rhythm, rhyme, and melody.

Social and emotional growth is the most important goal for our Nest students. The entire CNS team believes that play fosters learning. Playing among peers starts in the Nest, where we model the shift from parallel play to interactive play with positive language and polite transitional statements. When children can communicate with one another kindly they can achieve anything!
Danielle Kelly,
Program Director and Lead Teacher
As an active early childhood teacher, yogi, dancer, and musician, Miss Danny loves bringing her passions together to create opportunities for young learners to get moving! Having recently relocated to Ithaca from NYC, she brings her experience of working with hundreds of children in the five boroughs teaching everything from cooking, to hip hop, to yoga, and contemporary art for babies, toddlers, and young children. Miss Danny has been teaching for nearly 10 years and working with children aged 0-18, and is hoping to spread her love of the fine and visual arts to the growing little ones of Ithaca. Danny has her MS in Childhood Education as well as her BS in Speech Language Pathology. When she is not leading the toddler classroom at CNS, she can be found teaching yoga, teaching various enrichment classes at Jillian's Drawers, or enjoying Ithaca with her husband, her dog, and her cat.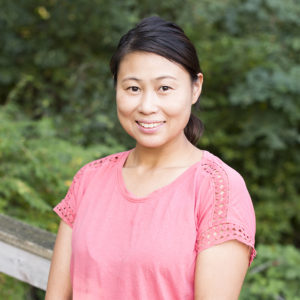 Chiharu Dexter, Teacher

Chiharu loved and had a great experience her first year of teaching at CNS, 2017-18. Working with great teachers, she got to learn various new teaching techniques and , through spending time with the school's cherished students and through various professional development trainings, she came to understand and appreciate early childhood development even further. She looks forward to learning and developing further in the field of early childhood education.
Prior to joining CNS, she studied hospitality and worked in the field of tourism in Japan. After moving to America, she worked in the import/export industry. She loves cultural exchange and finds working with the diverse families of the CNS community an absolute delight. At home, she is raising three children whose ages range between teenager and kindergartener. One of her dreams is to visit the world's most beautiful waterfalls, and she feels very lucky to be living in Ithaca, home to so many gorgeous waterfalls!
Stephanie Robertson, Teacher
Stephanie Robertson is thrilled to join the CNS team! Stephanie grew up in Texas. Her love for teaching has been instilled in her from a very young age by her mom. After Stephanie graduated from Texas A&M University with a BS in Secondary Education, she started her career as a middle school English teacher. When her husband got a job with the Cornell Basketball team, she saw it as an opportunity to find something that fits her better. CNS and the wonderful families involved came into her life at the perfect time. She cannot wait to bring a passion and commitment to making every day one of creating experiences to light those children's faces up with discovery and delight. She is committed to teaching with the same kindness, patience, and consistency that she has been taught from her many mentors. She is so excited to work with the toddlers in the Nest this year! Stephanie resides in Ithaca with her husband David and their dog Maxzine.
Our Daily Schedule
8:30 – 9:00 EARLY DROP-OFF (optional), Set-up Helpers and Free Play Time
9:00 ARRIVAL and SIGN-IN
9:00 – 9:40 FREE CHOICE TIME with teacher-guided arts/fine motor: exploratory process-based art, cooking activities, gross motor play
9:40 – 9:50 CLEAN-UP TIME: Teachers will model sorting and putting away toys in bins
9:50 – 10:00 DIAPER CHECK/CHANGE and BATHROOM BREAK 1
10:00 – 10:15 CIRCLE TIME: Hello Songs; mini-lesson, stretch and yoga, occasionally story/song
10:15 – 10:45 OUTDOOR/GROSS MOTOR PLAY (Bike room for rainy and really cold weather)
10:45 – 11:00: BATHROOM BREAK 2 and HANDWASHING
11:00 – 11:15: SNACK TIME: (opportunity for positive/polite statements and new food sampling)
11:15 – 11:35: SENSORY TABLE TIME/ACTIVITY CENTRALIZED ART: monitored and guided for safety/ Diaper check/change 2
11:35 – 11:50: MUSIC/MOVEMENT/STORY: We'll incorporate movement, dancing, and music every day and eventually non-competitive games; if the children are calmer we may read a story in lieu of gross motor play
11:50 – 12:00: GOODBYE MEETING AND FREE PLAY
12:00: PICK-­UP TIME AND SIGN OUT (Children line up and teachers let you inside to greet them! They'll feel so proud!)
12:00 – 1:00 LUNCH BUNCH (optional)
12:00 – 3:00 EXTENDED DAY PROGRAM (optional) Quieter napping program