The Roost Philosophy
Our philosophy in the Roost reflects the CNS philosophy of learning through play and exploration.
In the Roost we strive to provide an environment that is rich in opportunities for the children to explore and grow their social-emotional selves, thus providing a strong foundation for learning. In the Roost we provide the space, materials and guidance which will best allow the children to learn naturally through enjoyable activities, experimentation, and encouragement.
In the Roost a sense of community is very important as the children learn to identify and advocate for their individual needs, respond with empathy to their peers, resolve conflict and to find value in working together as a group.
Throughout our day we promote kindness, community, communication and independence using art, music, movement, games, books, creativity, mindfulness and the natural world. Through play and carefully curated activities, we work to prepare the Roost learners to confidently enter kindergarten at the end of the preschool year.
Vanessa Budetti, Lead Teacher in the Roost
Vanessa has recently moved back to Ithaca after living in the Hudson Valley for the past 18 years. While downstate, Vanessa earned a dual Master's degree in Childhood Education and Special Education. Her undergraduate degree is from Ithaca College and she is a Lansing High School graduate. Vanessa's teaching experiences have been in both private and public school settings, giving her an understanding of several educational philosophies and approaches. She uses proven teaching methods to bring learning and fun into the classroom. She has taught children of all ages but she is especially excited to get back to working with preschoolers. Vanessa enjoys nature, arts & crafts sewing, reading, hiking, travelling, camping and gardening. She keeps busy sewing heritage and costume dresses which she sells online. She can also be found building a tiny home and caring for her land in the "country" (Newfield) as well as exploring the "city" (Ithaca) where she lives with her family and pack of rescue animals who currently include 2 shih tzus, a fat cat named Kitty, and a few hens.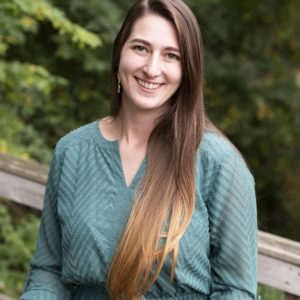 Brooke Osadchey, Teacher
Brooke Osadchey is a recent graduate of Fredonia State, where she spent four and a half years pursuing a dual bachelor's degree in Childhood Education and Early Childhood Education. Brooke has loved to read even before she understood how to do so. At Fredonia, she discovered her interest in analyzing and writing children's literature and hopes to one day be an author whose books appear in Early Ed. classrooms. She loves using her own passion for reading and illustrations and incorporates engaging read-alouds and activities in her lessons. Brooke grew up in numerous Connecticut and New York towns, and in the fall of 2017, she settled in Ithaca where her love for hiking and waterfalls grew. In her free time, Brooke likes to be outside wandering and walking with her dogs (border collie lab sisters) and exploring all the unique restaurants and sights in Ithaca and the nearby Finger Lakes. This is Brooke's fifth year working with preschoolers. She is thrilled to be joining CNS this year!
Our Daily Schedule
8:30 – 9:00 Early Drop Off and Free Play Time
9:00 – 9:30 Regular Drop Off and Free Play Time
9:30 Circle Time to introduce Daily Activity
9:30 – 10:30 Free Play Time
10:30 Clean Up Time
10:30 – 10:50 Circle Time with Group Activity
10:50 – 11:15 Handwashing and Snack Time
11:15 – 11:30 Snack Clean up and Reading
11:30 – 12:00 Gross Motor Play
12:00 Parent Pick Up
Kindergarten Readiness
At CNS, we strive to graduate Roost students who are confident, capable, and enthusiastic about the Kindergarten transition. Success in preschool and then Kindergarten is unique to each student, and we embrace that mentality. We think it is very important for children to be able to communicate their needs, wants and thoughts verbally, and be enthusiastic and curious about approaching new activities.
CNS is a community site that collaborates with the ICSD to provide quality pre-Kindergarten for 4-year olds. We invite you to read through the 'Kindergarten Readiness' document prepared by the Ithaca City School District: