The Nook Philosophy
In the Nook we believe that preschool is a magical time in a child's life. Our children in this class are moving from toddlers into preschoolers and we encourage the exploration, curiosity, and creativity that is so important to this phase of early childhood. You will see in the Nook many stories being read, time spent outdoors, open ended art, dance and movement, experiments, and music. We know that children learn best through play, and as teachers we love to nurture this play. Our goal is to help children have a fondness for learning, nurture emotional intelligence, and promote social growth in a loving environment.
Our Daily Schedule
9:00 – 9:30 Free Play Time and Table Top Manipulatives
9:30 Circle Time
9:45 Daily Activity (arts, science, baking, etc.)
10:15 Clean up and bathroom breaks**
10:45 Snack and Story Time
11:15 Outside Play or Bike Room
12:00 Parent Pick Up or Lunch Bunch
This is our daily rhythm, but we are flexible with our times. We extend outside time when it's nice outside, shorten circle time on days we need more active play, and try to go with the needs of our young students.
**Note: There is an expectation that children entering the Nook will be potty trained. If there are extenuating circumstances (such as medical or developmental concerns), the Nook teachers are happy to discuss this individually with parents.
Holly Schindler, Lead Teacher
Holly Schindler is a native Ithacan with a passion for teaching young children. Holly has used her love of nature, art, and her silly sense of humor to guide her through many years of teaching. Her teaching experience ranges from progressive private schools to traditional public Pre-K classrooms. For several years Holly also owned, directed, and taught at her own arts and nature based preschool in Caroline, NY. She brings with her years of experience and a deep curiosity for learning new methods of reaching young hearts. Holly has an AAS degree in Early Childhood with training and specific interest in the Reggio Emilia teaching philosophy.
When Holly is not at CNS she enjoys creative arts (pottery, painting, knitting) and hiking with her husband and two active boys.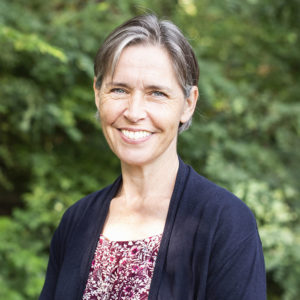 Christina Williams, Teacher
Having studied textile design in the UK, Christina moved to Ithaca with her husband and two daughters in 2005. After her youngest daughter started Kindergarten, Christina began working at St. Paul's Nursery School in downtown Ithaca. She spent ten happy years at the school and gained experience teaching across a broad developmental spectrum. Christina proudly became an American citizen in 2016!

Sari Vihervaara, Teacher
Sari moved to Ithaca with her family in 2015. She is from the northern part of Finland above the Arctic Circle and enjoys now the warm weather of Ithaca. Her two children are both CNS alumni and she has been helping in CNS classrooms as a substitute teacher since January 2018. She loves the genuineness of children and finds working with kids most rewarding. Sari has a Master's degree in economic sociology with Minors in education and psychology. She also values health and balanced life and has pursued this by supporting people as a health coach. In her free time Sari enjoys learning new skills and exploring the beautiful nature of Ithaca with her wife, son and daughter.!