The Nook Philosophy
In the Nook we believe that preschool is a magical time in a child's life. Our children in this class are moving from toddlers into preschoolers and we encourage the exploration, curiosity, and creativity that is so important to this phase of early childhood. You will see in the Nook many stories being read, time spent outdoors, open ended art, dance and movement, experiments, and music. We know that children learn best through play, and as teachers we love to nurture this play. Our goal is to help children have a fondness for learning, nurture emotional intelligence, and promote social growth in a loving environment.
Our Daily Schedule
9:00 - 9:30 Free Play Time and Table Top Manipulatives
9:30 Circle Time
9:45 Daily Activity (arts, science, baking, etc.)
10:15 Clean up and bathroom breaks**
10:45 Snack and Story Time
11:15 Outside Play or Bike Room
12:00 Parent Pick Up or Lunch Bunch
This is our daily rhythm, but we are flexible with our times. We extend outside time when it's nice outside, shorten circle time on days we need more active play, and try to go with the needs of our young students.
**Note: There is an expectation that children entering the Nook will be potty trained. If there are extenuating circumstances (such as medical or developmental concerns), the Nook teachers are happy to discuss this individually with parents.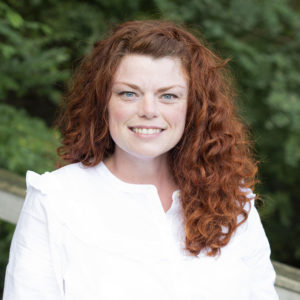 Holly Schindler, Lead Teacher
Holly Schindler is a native Ithacan with a passion for teaching young children. Holly has used her love of nature, art, and her silly sense of humor to guide her through many years of teaching. Her teaching experience ranges from progressive private schools to traditional public Pre-K classrooms. For several years Holly also owned, directed, and taught at her own arts and nature based preschool in Caroline, NY. She brings with her years of experience and a deep curiosity for learning new methods of reaching young hearts. Holly has an AAS degree in Early Childhood with training and specific interest in the Reggio Emilia teaching philosophy.
When Holly is not at CNS she enjoys creative arts (pottery, painting, knitting) and hiking with her husband and two active boys.
Evie Karnes, Teacher
Evelyn Karnes is a Licensed Master Social Worker (LMSW) with experience working with young children both as a social worker and a teacher. She has been teaching at CNS since January, 2014. Evie also serves as the CPSE liaison for CNS, helping parents navigate the preschool special education system and ensuring the students get the services they need. She has worked with children who have special needs through early intervention and preschool special education. Evie has lots of experience with this age group, is calm and patient but also very dynamic and fun. Evie lives in Ithaca with her husband, three daughters, two dogs, and two cats.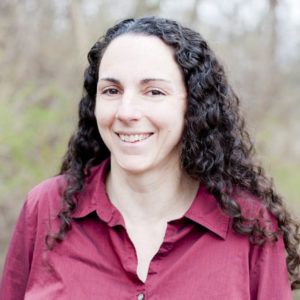 Melanie Gore, Teacher
Melanie has had many roles at CNS, including parent, teacher substitute, Board Treasurer and Co-Vice President, Interim Director, Nest Teacher, and now Nook Teacher. She has also served in various volunteer capacities in elementary schools. Previously, she worked as Hasbrouck Apartments, Cornell's graduate and professional student housing where she assisted in event programming for children, youth, and families. Originally from Virginia, Melanie graduated from Virginia Tech with a B.S. in English (Go Hokies!). Her love of literature is something she values sharing with CNS students. She is always eager to ready with them and encourage learning and exploration through literary works of imagination. She loves all the roles being a teacher calls upon and frequently puts the knowledge and experience she has acquired while raising her own children to use in the classroom. Melanie lives in Ithaca with her husband, their four children (three have attended CNS), and their pug!